Mongolian Cowboys Show American Cowboys Some New Tunes and Tales
Ts. Tserendorj is one of the most revered performers of folk music and folk tradtional poetry in Mongolia. He has a Ph.d in Folk Studies and is an "Honored Artist of Mongolia" a title conferred by the President of Mongolia.
PRAISE TO ELKO
20 years cowboys have gathered
In friendly Elko town. Ts. Tserendorj
The fame of Elko spreads across the world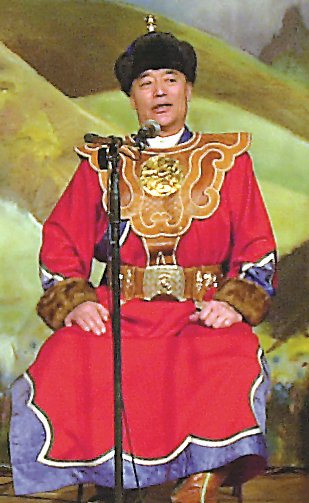 and brings other cowboys round.
This year a new posse rode in to play
from a land both far and strange
An ancient land, Mongolia,
where the steppe equals the range.
Now the Gathering calls any and all
who rope or sing or ride
For cowboy lore reaches shore to shore
And Mongols share that pride
The pride that comes from a job well done
aboard a dun or a roan or a bay
And you know your granddad would be proud
of the work you've done that day.
And that's what cowboys celebrate
when they come to Elko town,
Whether they're from Aussie land
or half the world around.
So when you hear those hoofbeats
in poems, songs and more,
listen this year for the haunting tones
of Khoomei and Moorin Khor
For a cowboy rides a bronc until
the final buzzer sounds
and Mongol herders likewise ride
until the sun goes down.
And this year wild east meets wild West
and proves in many ways
our love of horses, land and life
through words that speak their praise.

Salt Lake City Tribune Article on 2004 Cowboy Poetry Gathering and Mongolians
"Praise to Elko" written by Tserendorj, translated by Ariunbolor, poetified by Kent Madin
Send E-mail to: webinfo@boojum.com
Snail Mail : 14543 Kelly Canyon Road Bozeman, MT 59715 USA
Toll Free 1-800-287-0125 TEL: (406) 587-0125 FAX: (406) 585-3474
---
This site and its contents including graphics and photos are protected by Boojum Expeditions, copyright 2004. It is illegal to copy any portion of this site without written permission.






























In Mongolia we provide a range of travel services. In the capitol, Ulaan Baatar ( Ulan Bator) we have our own local tourism company, Khovsgol Lodge Management Company with full time English-speaking staff. We can arrange all forms of travel in Mongolia including jeep and overland travel, support services for film and video production, and specialized private itineraries. We cover the Altai, Gobi and all regions of Mongolia. Activities include fly fishing, mountain biking, rafting, horseback riding, equestrian interests, culture, history, dinosaurs.