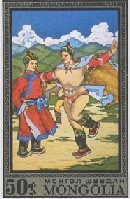 Mongolia... an Uncommon Adventure
The last great nomadic culture... rolling grassy steppes... Buddhist temples and shamans... the Naadam Festival.... The Reindeer People
From the Gobi desert to the snowy peaks of the Altai mountains and the crystal waters of Lake Khovsgol, Mongolia is truly an uncommon adventure that will challenge and fascinate the most experienced traveler.
In 1994 Boojum Expeditions became the first US outfitter to offer tourism in Mongolia. In 1998 Boojum/Khovsgol Lodge became the first Mongolian-American joint venture tourism company. From your first inquiry to our Bozeman office to your last day in Mongolia, you are in the hands of an integrated group of travel experts with over 35 years experience.
NOTE: For families, small groups and those with special interests, we excel at designing personalized departures and all our itineraries below can be run as custom trips.
Scheduled Tours:
Classic Mongolia With Naadam Festival 12 days July

2018 Dates: July 6-17

2 -5 $2530, 6-12 $2360 (+internal air)

Visit Ulaan Baatar, the Gobi Desert, Kharkhorin-Chingis Khan's ancient capital, Erdenzuu Monastery and the Naadam Festival. A concise look at the many faces of Mongolia including the spectacular Naadam festival: horse races, archery, wrestling and uniquely Mongolian games like "ankle bone shooting". We'll stay in ger camps and comfortable hotels, traveling by minivan or jeep in the company of your local guide. This trip is suitable for all ages and abilities; bring your sense of wonder and a flexible attitude.

Mongolia Traveler 14 days June-October

2018 Dates: June 15-28, July 16-29, Aug 1-14, Aug 9-22, August 13-26, Sept 18-Oct 1

2 passengers $2950, 3-5 $2750, 6-12 $2550 (+internal air)

The route covered in the April, 2006 issue of Conde Nast Traveler. Ulaan Baatar, the Gobi Desert, Kharkhorin, Erdenzuu Monastery and spectacular Khovsgol. We'll stay in ger camps and comfortable hotels, traveling by minivan or jeep in the company of your local guide. This trip is suitable for all ages and abilities; bring your sense of wonder and a flexible attitude. This trip is also offered for private departures that fit your dates.

Khovsgol Horse Trek 19 days June-September

2018 Dates: June 28-July 16 (Summer Naadam), July 7-25 (Summer Naadam), Aug 9-27, Aug 15-Sept 2

19 days 2 pax $3880 3-5, $3380 6-12 $3180 (+internal air)

Our most popular ride since 1994! On horseback we cross through the vast Darhat Valley in Khovsgol, visit the summer camp of the Tsaatan (reindeer herders near the Siberian border) and on several trips, we take part in the Naadam Festivals, Mongolia's celebrations of its ancient culture through wrestling, archery, horse racing, song and food. Our rustic lodges in Khovsgol serve as a basecamps for much of the riding.

Arhangay Horse Trek 13 days June-September

2018 Dates: July 2-14, July 6-18 (include Naadam),

July 22-Aug 3, Aug 5-17 (without Naadam)

2-5 $2500.00 6-14 $2250.00

Our "short" riding adventure in Mongolia provides six days of riding plus sightseeing in Ulaan Baatar and Kharkhorin, ancient capital of Genghis Khan. Arhangay has been called the "Switzerland of Mongolia" for its beautiful scenery; forests, rivers and mountains. We'll cover about 20 miles per day with plenty of time to visit the many local herders in their gers along the way. Each night we meet our support truck at a new campsite. At either end of the two itineraries, you enjoy the Naadam festival in the intimacy of a small town.

Essential Mongolia

10 days June to October

2018 Dates: July 8-17 (Tsetserleg Naadam),

Aug 5-14

2-5 $2250.00, 6-12 2150.00 (+internal air)

Join a scheduled departure or let us customize this itinerary as a private departure that fits your dates. We visit Ulaan Baatar, Chingis Khan's capital at Kharkhorin, Erdenzuu Monastery, the central steppes of Arhangay, White Lake and the Khorgo Volcano and Lake Khovsgol. Our scheduled dates include Naadam in Tsetserleg and Fall Naadam in Khatgal.

Kazakh Eagle Hunters 11 days October-January

2018 Dates: Nov 1-11, 15-25, Nov. 22-Dec 2, Dec 6-16, 13-23, Dec 27-Jan 6

Contact us for private departures on other dates.

2 $2450,3-5 2350 (+internal air)

Falconry, one of the most dramatic and primal relationships between man and beast is alive and well in the remote mountains of western Mongolia. You'll follow Kazakh hunters with trained golden eagles, the largest and most powerful of raptors, as they hunt fox and rabbit from horseback. Meet the hunters, their families and their birds, follow them on the hunt and learn some of the skills involved in the capture, training and use of the eagles as hunters.

Wrestling, Horse racing and Archery epitomize the culture and context of Mongolia. They are simple sports; no complicated scoring or special facilities or technology needed. The strongest, fastest man, the strongest, fastest horse and the strongest, steadiest archer win the medals.
The National Naadam, like the Fourth of July or Bastille Day is held every year on the same days throughout the country, July 10-12. During the year, other Naadams are held (the word means simply "festival") in conjunction with anniversaries or significant dates of nearly any kind.
In addition to the three traditional sports, one may also find "knucklebone shooting", a game which combines aerial shuffleboard with a puppet show stage. As a spectator sport, it is more exciting than paint drying.
When and Where to Attend
Naadam in Ulaan Baatar has its advantages and disadvantages. The good news is that it's certainly the biggest and most colorful Naadam. There are opening and closing ceremonies and all the best wrestlers and archers in the country will be in Ulaan Baator. For the knucklebone shooting enthusiasts there's an entire tent full of that sport. The horse races are the largest in the country with some of the best horses. The archery, wrestling and knucklebone shooting venues are all nearby each other.
The bad news is that Ulaan Baatar's Naadam is the biggest and most organized. You'll find yourself in the company of MANY other tourists, just like you. The crowds, dust and heat can be considerable. Getting into the opening and closing ceremonies in the main stadium, even if you have a ticket, can be a physical struggle. Watching the wrestling in the stadium is only for the most hard core wrestling fans. Even locals bring small televisions so they can actually see the action up close. The archery is much more accessible but you'll be hard pressed to find a place to sit in the limited space of the bleachers. The horse racing is a good 45 minute drive away, on the other side of the mountains. When you arrive, you'll still be back 100 meters from the action, so bring binoculars. Adding to these negatives is the fact that ALL the hotels, cabs, restaurants raise their prices for the Naadam period. And then there's the traffic in the city which is often made worse (if that is possible) during Naadam by the motorcades of important officials which shut down the main roads of the capital on a regular basis.
Yes, you do detect a certain bias against seeing Naadam in Ulaan Baatar.
On the other hand... Naadam in smaller venues (every aimag and soum capital has one on the July dates) retains the country fair atmosphere that is so appealing and so authentic. In places like Kharhorin, Tsetserleg, Dalanzadgad, Khatgal, and Hovd you'll be free to wander among the tents of the horse racing families, watch how the trainers prep the horses and the young jockeys, even be invited in for fermented mare's milk. You can sit cross legged with locals who, with their bodies, delineate the boundaries of the wrestling area. Be prepared to get out of the way quickly when the wrestlers head your way. There will be great wrestling action, thrilling horse races and you'll probably be able to try your hand at archery. In Ulaan Baatar, the populace is bored with tourists, but in the smaller Naadams, local people are still very warm in their welcome to tourists.
If you wanted to show a foreigner your true culture, the community and traditions which define you, would you take them to the Super Bowl or World Cup or would you take them to your local high school's championship game?